After years of notes and reflections, things are starting to move for my mutation project. I worked several months with the documentary director Philippe Baylaucq to prepare the production of a documentary project based on the themes explored in my mutation notebook. On September 21st, the Société des entreprises culturelles (SODEC) in Quebec, within its support for screenwriters program, has accepted to give us a hand.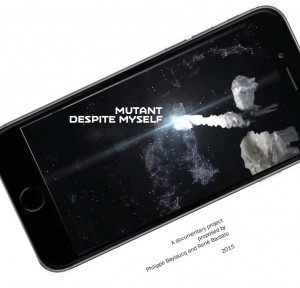 I will then start working, over the next several months, to refine the scenario with Philippe and structure my research to be able to feed the film but also the other pieces of the puzzle, notably an interactive document and an exhibition.
While SODEC's help is a very positive signal, there is still a lot to do before reaching a final product in 2017/2018… and also a lot of work around financing and production partnerships.  So if you think you can help us on this, with ressources, financing or contacts… here is the first brochure describing the documentary project "Mutant despite myself".
I will leave you the pleasure of reading it and I invite you to contact us at the coordinates mentioned in the brochure.
Hoping to connect with you soon,
René Barsalo